The Project FAG Site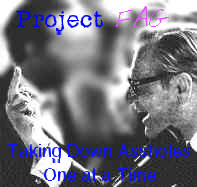 Welcome to the Project FAG HQ. What exactly is Project FAG, you ask? Well, the truth is that someone pissed-off a good friend of mine so now I'm going to publicly defame them using the internet. Who is our subject? Well, as the title of the page suggests, our subject is indeed a fag. In cyberspace he is called TearDragon. In real life he is called Steve the Queer. On this page you can find the members of Project FAG and facts that you didn't know (and would probably be better off not knowing) about Steve the Queer. In fact, I'm going to give you his email (tool1780@home.com), ICQ number (39876280), and his IP (24.5.187.164). Have fun.
MEMBERS

Prozac

QueerDragon


Z-R0E


X-Idus


Galford

Akira-san
ENEMIES

TearDragon


Z-H0

Gayford

Alucard, the gay half-vamp
---
OH MY GOD!!!!!!!!
NOTE: All of the enemies are actually TearDragon using different names.
Facts About Steve the Queer (TearDragon)
1. He has about 40 pornos that he hides from his parents in a Disney box. The best part is that he's only 17.
2. He is proud to spend 45 minutes in the shower. What's so bad about that? He isn't exactly doing anything "clean," if you know what I mean. (For the slow of thought, it means he maturbates.)
3. A sad fact is that he's 17, and he's never been kissed. Hell, he's never even spoken to one without throwing up!
4. He's just gay. How do we know? Take a look at this quote: "i used the force to take a shit today, so it treated me quite well, without the force i wouldn't have been able to get that 5 pond brown baby out, but i loved the way it felt in my ass anyway." I don't even feel the need to comment on that.
5. Some people say he has had mono before. Exactly where did he get it from? If he's never been kissed by a girl, and he's never even had a girlfriend...I'll just leave that to your imagination.
This is a new animation I made that explains the horrors and dangers of being gay. Enjoy!