Koros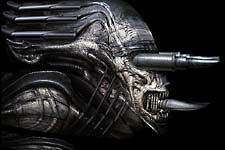 Stats:
Name: Koros
Affiliation: Melkar Empire
Character's History: Koros is the product of the newest advances in Melkar technology. He is the creature responsible for the destruction of Beta Pictoris V at the Battle of the River of Blood, and has since only become stronger. After the Battle of the River of Blood, he was mortally wounded and was volunteered for scientific research into the possibility of Melkar super soldiers. After failing his field test, he is fitted with a new organic robotic suit and treated with beta rays. The result is a deformed killing machine with enhanced strength, speed, and two arm cannons, one which fires laser blasts at an increased rate and one that fires flames wrapped in an anti-gravity bubble (liquid flames).
Genetic Background: He can be what is considered a "Super Melkar."
Likes: Destruction, insulting the Alliance
Dislikes: Anything that is not a Melkar, the Alliance
Powers: Other than enhanced strength and speed, he has a laser cannon on his left arm and a liquid flames cannon on his right. His new exoskeleton also allows for not only energy damper fields, but also energy-redirection.
Weapons: A laser gun and a liquid flames gun
Special Notes: He is very easily distracted, although only for a short time. Also, he has an internal battery that is similar to that of a quartz clock, and the energy and redirection fields take up energy, so the fields are limited.
You are now listening to Lava Stage from Iron Sword.