Zlantur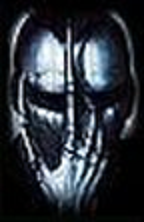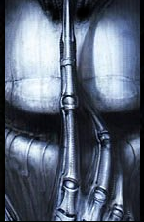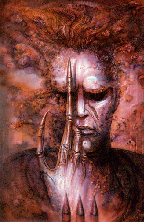 Stats:
Name: Zlantur
Affiliation: Whoever can promise chaos and/or readily available "food"
Character's History: He was exiled from his planet after nearly wiping out its population. Not much more than that is known, but it is believed that he is a former member of the intergalactic bounty hunter group known as Outcast.
Genetic Background: It's unknown as to what he is, but his genetic make-up demands that he steals and feeds upon the flesh of sentient beings.
Likes: Survival, killing
Dislikes: Having parts of him blown off (it has happened before)
Powers: He can alter the appearance of a person just by touching them (i.e. causing bones to grow or flesh to stretch, as well as blood to gush from pores). He can also alter his own appearance, in so far as bone structure is concerned. He can and must graph flesh onto himself in order to survive, leaving his prey a mess of blood and organs. When flesh is stolen, he can take on the appearance of his prey, with the exception of dark circles around their eyes.
Weapons: Long, sharp claws and flesh/bone-crafting powers.
Special Notes: In the case that a limb is blown off, he can heal himself by touching someone else. He does have one weakness, and this weakness can and will kill him, but it will take an extreme knowledge of science or just pure creativity to figure it out.
You are now listening to Matoya's Cave from Final Fantasy.