ASM PROFILE: HAPPY FUN LAND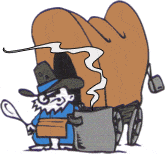 Members: Fun Leader Bob; Spanky McGee; Captain Strong; Big Kombo; Humpy Llama
Era: Second Moonie War, aka Moon War II (1996-2000)
Affiliation: ASM Mercenary
---
NOTES FROM THE ISM ARCHIVIST:
Oh, Jesus Christ, it's Happy Fun Land.
Everything we know about the folks who comprised Happy Fun Land comes from Double O, Ethan Michael Crane, The Guardian, and Mike P. Here's what we know about these blokes:
They were another example the "ASM mercenaries" drafted by NSE-adjacent organizations during this time.
They were acquaintances of Double O, Ethan Michael Crane, The Guardian, and Mike P.
They were infamous trolls on the old Planet Namek forums, going under additional names such as Excelsior, Bahige, Ketchuprat, NERV Agent, Ughzibub, Ughzibuzub (the Return), Dave, Dawude, Big Daddy Debo, Mr. Snuggles, ComboCat, White Knight Big Pecker, and Nazi Fun Leader.
They became low-level mods of Planet Namek by creating quiet, informative accounts alongside their more raucous, offensive accounts.
It is said that once they received mod powers at Planet Namek, they went on a banning spree--and it is this spree that caused Planet Namek to create a new forum in 2001.
Though they had several websites, none of them featured anything particularly anti-Sailor Moon--rather, their anti-Sailor Moon work was "freelance" and performed at the behest of The Guardian.
The extent of their anti-Sailor Moon work comes in the form of character sheets submitted to the "In the Distance" Sailor Moon RPG.
They were considered largely unaffiliated.
Below are the fruits of Happy Fun Land's many labors. Since you're likely here for the Anti-Sailor Moon content, links to the aforementioned "In the Distance" character sheets are presented first. Under that are four iterations of Kickacat.com, a Happy Fun Land website maintained in 2001 and 2002. Beneath that is a still image reconstruction of HippoFest, a 2002-2003 or 2004 website maintained with help from Fun Leader Bob. Finally, a page containing fragmented materials from the original Happy Fun Land website are presented at the very bottom of the pile.



---
THE HISTORICAL RECORD
"In the Distance" Sailor Moon RPG Character Sheets
Kickacat.com
Version 3 (Late 2001/Early 2002)
HippoFest.com: A Reconstruction
---
Back to the Ring of Power